Alvin has directed dozens of plays and musicals – including several that he has written – as well as royal galas with star-studded casts, performed in front of Her Majesty The Queen and Queen Mother.
Alvin was asked by a reporter to confirm that Hamlet was his first stage play. 'Yes', he replied, 'It's easier starting at the top.'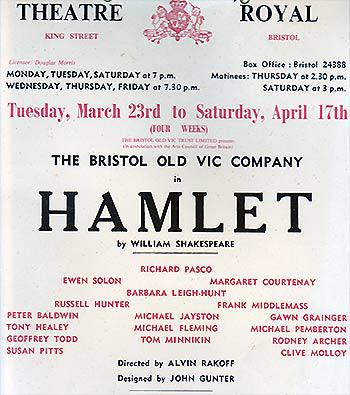 "Alvin Rakoff's production has been conceived in terms of a swiftly urgent Renaissance intrigue …pushing ahead with force and unaccustomed resolution" Daily Telegraph
"…clear cut and direct, gains much of its power and sweep by an honest return to theatrical essentials…Mr Rakoff has also had the quite brilliant idea of ending the first half with Claudius's hasty retreat in the play scene" The Guardian
"VERSE TRIUMPH IN HAMLET…Altogether this is verse speaking of that high order where art truly conceals art" The Times
"A great Hamlet…Alvin Rakoff has had an emphatic success" Bristol Post
"English audiences are usually self-conscious about dispensing encores and bravos. But there was no hesitation to the tremendous reception justly earned last night by this latest Hamlet…Mr Rakoff allowed himself two bold and original strokes of production, He substituted for a speaking Ghost an eerie pulse-beating spirit, and he split the evening down the middle on Claudius's frantic cry of 'Get me some light.' " Western Press
A Sentimental Journey (2011)
A Sentimental Journey – The Story of Doris Day stunned critics and audiences around the world since 2009 when it was first produced at The Mill at Sonning Theatre in England, then went on to sell-out runs at Wilton's Music Hall, London; and the Edinburgh Festival in 2011; finishing to standing ovations at the historic El Portal Theatre, Hollywood.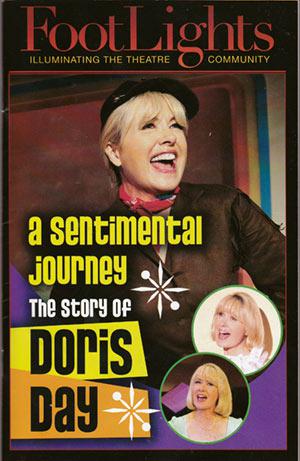 "Dazzling!" The Hollywood Reporter
An Unqualified Hit!… It's magic!" Broadway World
"The show left to run like clockwork by director Alvin Rakoff has gained since its sell-out run at Sonning last year…" Evening Standard
"A Sentimental Journey that the audience were more than happy to travel. A cracking show!" FIVE STARS ***** British Theatre Guide
"…this fast-paced tale of a complex character who recorded over 650 hit singles and made 39 movies" What's On Stage
"…the quintessential glamour and sparkle of Hollywood's Golden Age with an ambience not easily created even in the west-end hit musicals." Plays To See
with Anthony Valentine and Glynis Barber
" .. the cast displays a cherishable eye for detail..Alvin Rakoff's immensely accomplished production introduces us to an insular world " Daily Telegraph
Too Marvelous For Words (2002)
Alvin was commissioned to write and direct a theatrical musical based on the life of song writer, Johnny Mercer.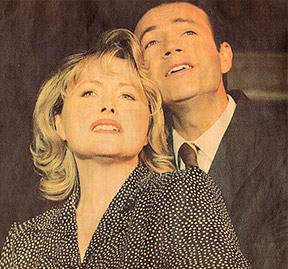 Songs included 'Blues In The Night', 'Accentuate the Positive', 'Come Rain or Come Shine', etc. 'Too Marvelous for Words' transferred from The Mill at Sonning Theatre to the King's Head, London.
"You might believe Mercer simply has too many hits (1500) to be digested down into a simple narrative…but Rakoff is crafting a stage show and he succeeds…enjoyable…entertaining…sparkles." Financial Times
"..dashingly staged….you could say that the quality of Mercer is definitely not strained." The Guardian
Alvin adapted Raymond Chandler's most famous novel, 'The Big Sleep', for the stage with his son, John D Rakoff.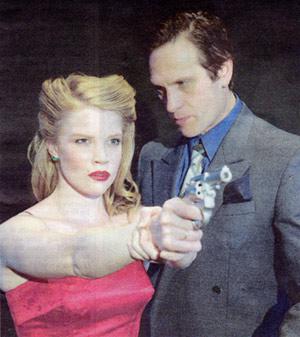 "…intelligently adapted and this is its world premiere as a play. The complex plot twists and turns like a corkscrew rollercoaster ride. Alvin Rakoff's fluid direction kept the action moving at a brisk pace. This was a splendid evening's entertainment and the cast richly deserved the audience's spirited applause." The British Theatre Guide
"Seven actors play 26 roles. The different wigs go on and off, the dresses change, but considering the pace of the show .. off stages as X, almost instantly on again as Y .. The absence of confusion is impressive. So all credit to Alvin Rakoff's nimble direction" The Times
'From its first, stylised moments as the silhouettes of naked women can be seen posing for a camera while gun shots ring out, you know that this version of Raymond Chandler's novel is going to be different, very different…everything is innovative and imaginative." UK Theatre Network
"…it was intriguing to imagine how this master storyteller's quintessentially American work could be transferred to the English stage…. Murders are committed, women get slapped and the cops are always one step behind the private dick. Director Rakoff makes interesting use of lighting, film and backdrops to set the many locations…This is a fine adaptation of a great story. It is well told, fast paced and very exciting. Well worth a visit." What's On Stage
Cruise Charity Gala Performance (1984)
A star-studded gala held before H M Queen at The Royal Albert Hall. Performers included Richard Briers, Wayne Sleep John Gielgud, Bachelor Boys, Penelope Keith.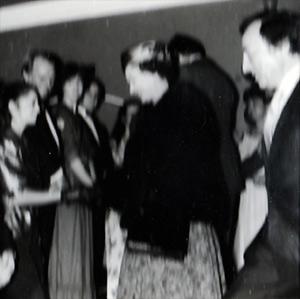 Celia Johnson Memorial Theatre (1982)
Alvin directs a star-studied cast in front of HM Queen Elizabeth, the Queen Mother, in a fundraiser that raised over £175,000 in one evening. Starring Ralph Richardson, Jeremy Irons, Richard Briers, David Dimbleby, Humphrey Burton and Leslie Crowther