Alvin has written original screenplays, screen adaptations, theatre musicals, plays, and three novels. He's directed and produced many of his plays and screenplays to critical acclaim.
I'M JUST THE GUY WHO SAYS ACTION
By the Director who gave Sean Connery & Others that First Big Break
Multi-award-winning director, Alvin Rakoff, recalls the doubts, fears and tribulations of casting an unknown extra called Sean Connery in his first leading role. Plus showbiz etceteras of a unique early career.
,Frank and fascinating, I'M JUST THE GUY WHO SAYS ACTION is a unique insight into the golden era of television production and the people who helped shaped it. A must-read for anyone interested in the history of young and untried talent struggling to find their way.
Now available at Waterstones, Foyles and Amazon

" Alvin Rakoff is exactly who you want to find sitting next to you on a long train journey. Alvin has known and worked with all the legends and loons in showbiz history and his recall is perfect. The stories that pour from him are so gaspingly glorious that the journey will flash by. I never wanted the ride to end. What a life. What a career" Stephen Fry
" I

t races off the page like a thriller: a vastly entertaining masterclass. 

Should be required reading for anyone who even thinks of joining the profession.

" 

Joanna Lumley

Book Launch at the Mill at Sonning Alvin talks about the book and just some of his adventures in film and television to an audience which includes George Clooney, Peter Egan, Debbie McGee. Simon Williams, Wendy Craig, Nicholas Jones, Grant Heslov.
The Film Programme Alvin talks about the book and other aspects of his fascinating life in the world of TV and Film
Ampersand. And. The ampersand partner, the wife, the other half of a twosome. As in Jack & Jill, Darby & Joan, Romeo & Juliet. And Robin & Gillian.
While working in New York, Gillian, a girl from Selly Oak, meets Robin. Robin is not yet ready to enmesh himself in a binding alliance. But she learns to give and he learns to give; and they both learn to love. Ampersand and a name is a partner's story. & GILLIAN is Gillian's story, a story of love, marriage and misfortune.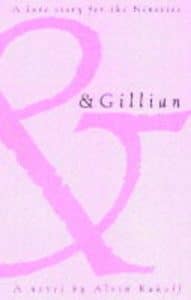 Alvin's second novel is based on his childhood in Canada in a poor, pre-war market area of Toronto
"In the tradition of James T. Farrell's Studs Lonigan, Alvin Rakoff's Baldwin Street is literary fiction at its best. This powerful novel presents a vivid mosaic of characters, the rich fabric of a community, and a boy's coming-of-age on the dusty, rough-and-tumble streets of Toronto" Amazon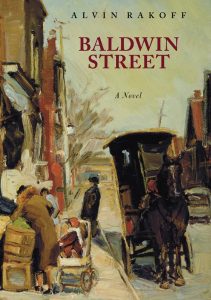 Alvin's third novel – a fast moving, entertaining, thriller – attacks the dangers of envying genius. "Only God should play God," said the US President, "everyone else is miscast".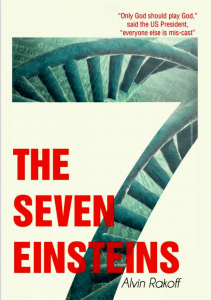 "From the pen of acclaimed writer, director and producer Alvin Rakoff — credited with starting the careers of actors Sir Sean Connery and Alan Rickman — comes a gripping new thriller about a secret plot to clone not one but seven Albert Einsteins" Lovereading
The original screenplay 'An Act Of Love' by Alvin Rakoff is based on a true story set in Belgium during World War 2.
Alvin has completed a screenplay based on the novel by Peter Ustinov dealing with gun laws in America.
A FLIGHT OF FANCY (BBC TV) 1953
starring Jerry Desmond
THUNDER IN THE REALM (BBC TV) 1955
An RAF documentary
THE CURSE OF THE MUMMY'S TOMB (Hammer Films) 1963
under pseudonym Henry Younger
CHURCHILL'S PEOPLE (BBC TV) 1974
starring Jeremy Irons
ROOMS (THAMES TELEVISION) 1974
SAY HELLO TO YESTERDAY (CINERAMA) 1978
starring Jean Simmons, Leonard Whiting
AN ACT OF LOVE (2015)
KRUMNAGEL (2017)
THE TROUBLED AIR (BBC TV) 1953
An adaptation of the Irwin Shaw book
THE EMPEROR JONES by Eugene O'Neill (BBC TV) 1953
WAITING FOR GILLIAN (BBC TV) 1954
EPITAPH by Leo Lehman (BBC TV) 1956
OUR TOWN by Thornton Wilder (BBC TV) 1957
CAINE MUTINY COURT MARTIAL by Herman Wouk (BBC TV) 1958
SUMMER AND SMOKE by Tennessee Williams (BBC TV) 1971 starring Lee Remick
HARLEQUINADE by Terence Rattigan (Anglia TV) 1973 starring Edith Evans, Denholm Elliott, Joyce Redman
CITY ON FIRE (Astral Films) 1978
starring Ava Gardner, Henry Fonda


A complete list of credits can be found here  
TOO MARVELOUS FOR WORDS.  Musical about lyricist Johnny Mercer
THE BIG SLEEP.    Stage adaptation of Raymond Chandler's novel